Club Champion Signs Lexi Thompson
Club Champion Signs Lexi Thompson
Club Champion Signs Lexi Thompson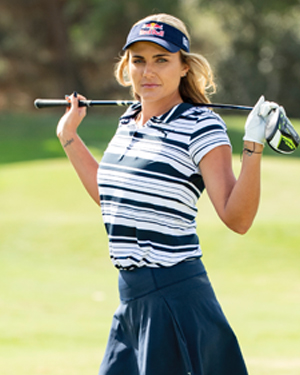 We are proud to announce a multi-year brand ambassador agreement with LPGA superstar and Major Champion, Lexi Thompson!
Through the partnership, Thompson will help strengthen Club Champion's message that club fitting should be a core part of golf improvement for every golfer. Thompson has been a force on the LPGA for more than half of her life, and has the knowledge and experience to support club fitting as a practice.
"Properly fitted equipment is undeniably a huge factor for any golfer's game," said Thompson. "I'm thrilled to work with Club Champion because they offer a truly Tour-level fitting that can benefit everyone from professionals to beginners."
Thompson joins Louise Ridderström as the second LPGA professional on the Club Champion ambassador team. Jim Furyk, Paige Spiranac and Michael Breed are also part of the Club Champion crew.
For over a decade, Club Champion has been the nation's top club fitter, builder, and retailer of the best brands in golf, offering over 50 brands and more than 65,000 hittable club combinations in every store. We will eclipse 80 locations by spring 2021 with plenty of more growth to follow.
"Adding Lexi to our team is a perfect fit—her talent is undeniable and her future is only getting brighter," said Nick Sherburne, founder of Club Champion. "She's a role model and she's an inspiration to every golfer, especially women. This is an exciting time for us as a company and we expect Lexi's influence on the brand will only accelerate the excitement for us."