Interview with Nancy Lopez
Interview with Nancy Lopez
Interview with Nancy Lopez
Nancy Lopez visited Club Champion in the hopes that we could help her with her game.
This interview was originally conducted in October 2019 by then-Club Champion employee Leonard Finkel.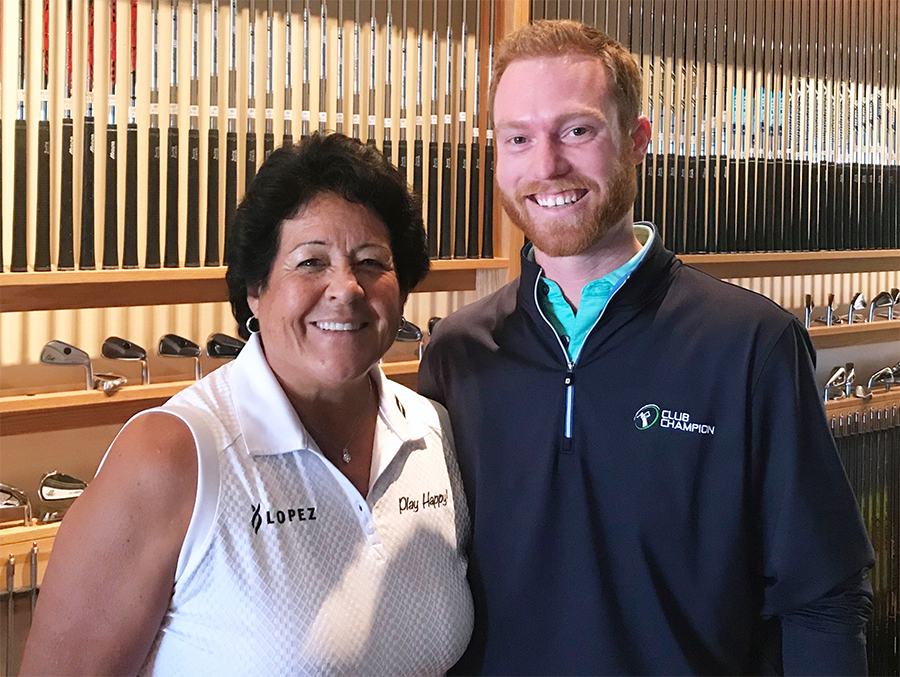 Hall of Famer Nancy Lopez and former Club Champion fitter Evan Addington.
Leonard Finkel: Nancy, you've had a Hall of Fame career. What would you consider your greatest achievement?
Nancy Lopez: My greatest achievement on the golf course? I've always felt that being a part the Solheim Cup team was a great achievement for me. Being able to play on the first in 1990. Then I was captain in 2005 and no matter how many tournaments I've won, it was just really special to captain this great team in 2005 and win the cup for the United States of America. I always feel like when you represent your country, there's so much pride involved. That was what I enjoyed the most, being a part of that team; being their leader and being able to win the cup.
Finkel: It's interesting with all you've achieved personally, that you consider your greatest achievement a team event. How do you explain that?
Lopez: The thing is, it's all about representing your country, not just yourself. Whenever I see any events where you're playing for your country, I get this great feeling of pride. I absolutely enjoy winning tournaments, winning five in a row my rookie year, winning nine my rookie year. Personally having my three daughters is my other great accomplishment. To play golf, win tournaments while carrying three babies, and the thirty five years I was on Tour. There are a lot of accomplishments that are special to me but golf-wise, it was the Solheim Cup.
Finkel: What was your biggest disappointment?
Lopez: Not winning the Women's U.S. Open. I had four seconds. I always felt pretty prepared to win a U.S. Open. I felt like I worked hard on my game. It felt like my game was there, but I just came up short. And I think the last one at Pumpkin Ridge in Oregon was probably the toughest because I had worked out for two years with a trainer hoping that whatever the U.S. Open threw at me, I had a chance to win it. I was in the best shape, best mental shape that I've been in any U.S. Open. It was pretty devastating, finishing second one more time, knowing that my time was getting shorter in being able to accomplish that. It was very disappointing not to win that U.S. Open.
Finkel: In a way, it's almost like you're the Phil Mickelson of the LPGA. Can you give me your insights into how you think Phil feels given your experience?
Lopez: I felt terrible for Phil. I know that he didn't lose the sixth one. I was crying for him. I've been there. I know that feeling seeing him finish second six times! Oh my God, it is horrible. I felt really bad for him because I know what it means to win a U.S. Open. I think for the USGA, they don't truly realize the USGA has always been about amateur golf. I know they have the Major championships, but they don't realize how important a win in the U.S. Open is for professional players. It's kind of the icing on the cake for their career to be able to do that.
Finkel: You have been retired from competitive golf for quite a while now. What occupies your time these days, business or personal time?
Lopez: I like to spend time with my daughters, I try to do some trips with them. I have a new husband of two years. He loves golf, I love golf. I try to play some of the top golf courses that I never got to play in professional golf. I've had Nancy Lopez Golf for quite a few years now. We have golf clubs for women and clothing for women. That's something I have been involved with for almost 20 years. I just don't know time anymore; I feel like it flies by. The clothing company has been in operation for about 15 years. Now I have a company called Nancy Lopez Golf Adventures — this is our fifth year. It's the Top 50 teaching professionals for the TNCP of the LPGA and we travel and go to clubs to teach golfers to play golf and enjoy it. We teach a lot of my dad's philosophies and our mantra is to play happy. We get to do that. We've gone to Ireland and Scotland. We are going to move to Spain in 2020. We were just in Casa de Campo this past October. So we take people on trips. We play golf, teach, just have great fellowships with this new company. That's been a lot of fun and that's probably what I'm going to be doing for quite a while. I still try to do a lot of corporate events and speaking engagements. I play on the Legends Tour; not really the Legends but we play with past players of the LPGA Tour. Pat Bradly's on there, Patty Sheehan. Players I played against back in the heyday. For me it's not as competitive because I just like to go and kind of socialize. I know a lot of them will go there just to play competitively on the Legends Tour. I just enjoy playing golf. In 2010, I got a knee replacement and this past November I had another knee replacement because both of my knees are terrible. And now I'm walking with no pain, hoping to one day walk 18 holes again and play golf for 18 holes at the same time. And maybe play one more tournament on the LPGA Tour. It will be fun to be able to try.
Finkel: You recently visited Club Champion for a custom club fitting. Why did you decide to come in?
Lopez: The last set of golf clubs that I got, I just never felt good about them. I know I want to enjoy playing golf for the rest of my life. I was not enjoying playing golf with my clubs anymore. In all my career on Tour, I got fitted one time at TaylorMade. But it was nothing like what Club Champion does. I was not able to call it a fitting at the time. I told my husband that I really want to find something I hit well, that I don't have to swing so hard. Because when you're older and you don't play every day, it's really good to find something that fits you so you're not laboring over a golf shot every time you step over it. I decided to reach out to Club Champion to see if they would fit me, and I felt like this is a great time to do this. When I was in Orlando, we went over there and I was just amazed. I only had one bad knee, so I was swinging for four hours with a bad knee. Hopefully with two good knees once I get back to playing and getting used to my legs again, maybe I will be able to hit it sharper.
Finkel: Can you share with us how the clubs are performing for you so far?
Lopez: I love my new clubs. They feel so good even though I just barely started to swing them. I don't think that I've hit a bad shot yet. Right now, I'm using four extra clubs because I can't swing full tilt. But going there was truly a great experience. Being able to hit different golf clubs. You can't just do this out in the driving range. It's good for someone to always be watching what you do and they either write it down or tell you what this club does, what this shaft does. You will be able to see different heads because golf is more mental and visual. When you see a golf club and you don't like it, they have so many different clubs to try. Lots of different shafts.
Finkel: I understand there was some customization with the cosmetics of your equipment. Can you describe it?
Lopez: Now they are going to be showing my husband's golf grips, which are really a lot of fun. I've got those on my clubs. I've got the most colorful clubs of anybody. I've got a pink shaft, and all my grips have different colors. My family is in my golf clubs; I've got my daughters' names, my husband's children names [on the grips]. It's so cool. I love my golf clubs. Now I'm just trying to get comfortable with the clubs and know how far I'm going to hit them. I think I'm going to pick up some yardage for sure, now that I'm swinging something that feels so easy to swing.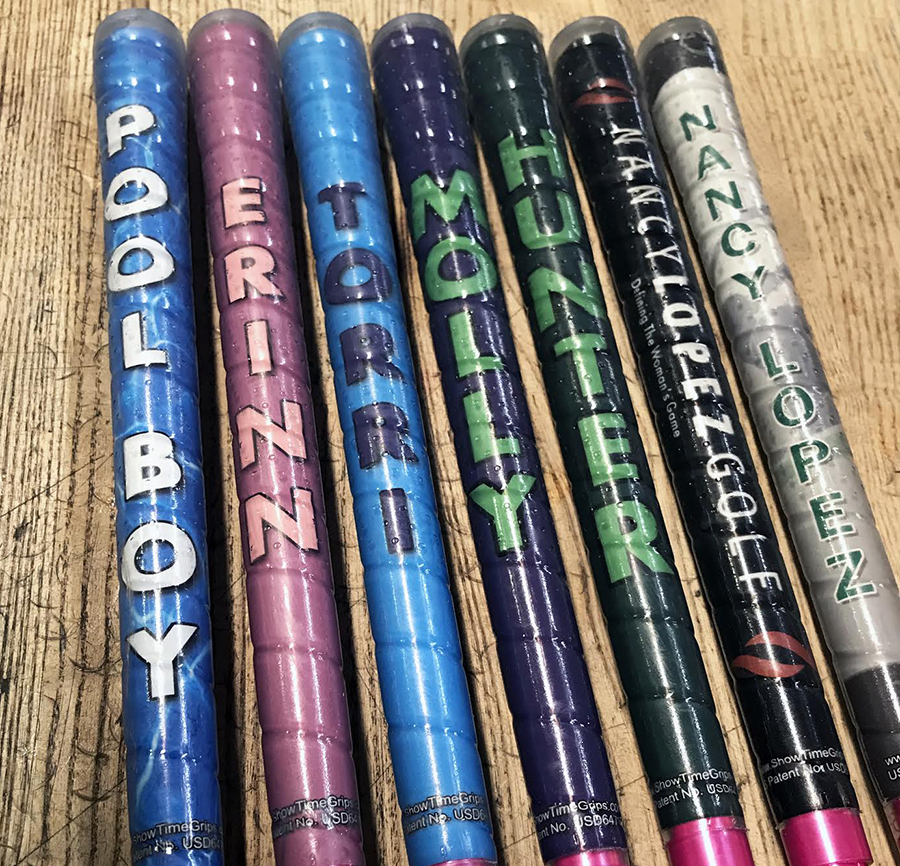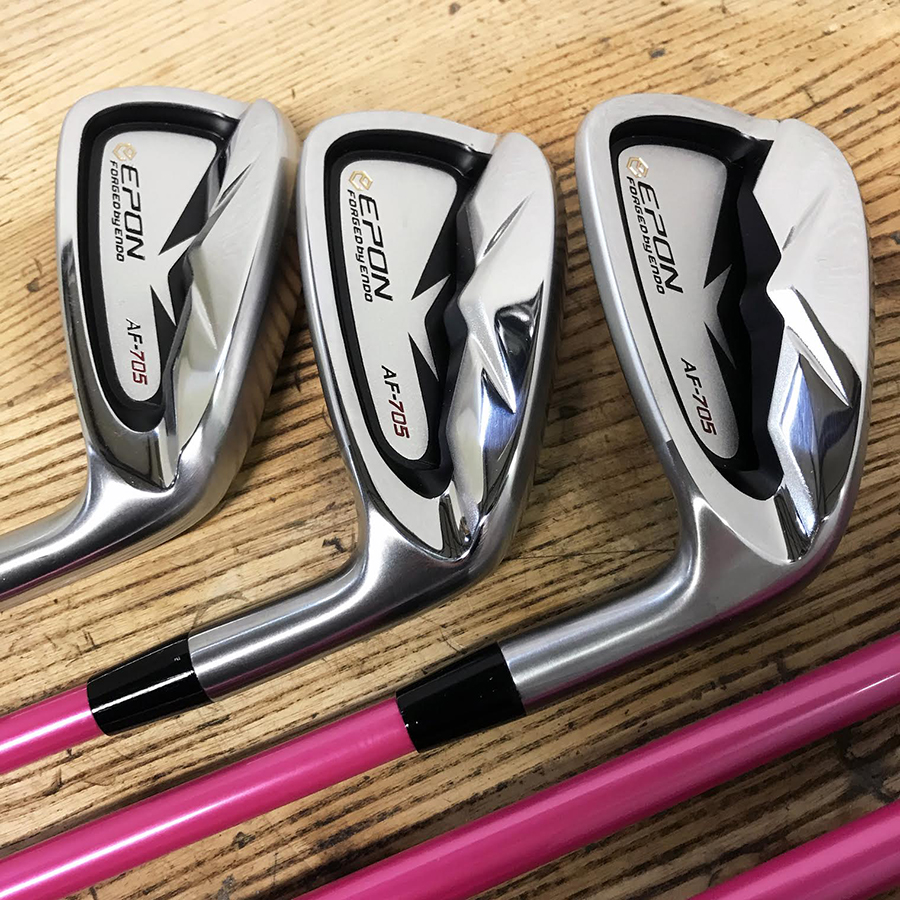 Finkel: How did your fitting at Club Champion differ from the way you were fit on the LPGA Tour?
Lopez: We really didn't have the opportunity for club fittings. You know the guys on the PGA Tour were more involved in finding the right shaft or finding the right head. On the LPGA Tour, we had people out there with different club companies. They would hand out golf clubs and we would try them. If we like them, we'd use them. It was never a club fitting like at Club Champion. I think that maybe I missed out. Maybe I should have gotten a great fitting back in those days, but I played the clubs I had confidence in even though they were pretty much handed to me. But like I said, I'm really looking forward to swinging my new golf clubs once my left knee is feeling more comfortable. The left knee is pretty new so I'm not swinging very hard yet, but once I can start really using to lower half of my body, I think I'm going to pick up 20 yards and get close to how I used to hit it. I'm so excited about every club that I've hit in my bag. They made a great 3-wood, a great 5-wood. It's going to be experimenting to see what clubs I want. Right now, I have about 16 clubs in my bag. They made extra clubs for me which I could try if I need them on certain golf courses. I'm excited to be able to test them all when I'm really swinging the way I know I can swing when using my lower body.
Finkel: While custom club fitting seems to be the trend with men, that hasn't necessarily been the case with female golfers. How do you think women of any skill level could benefit from custom club fitting?
Lopez: Well, I think there are a lot of women who want to play really good golf and I think they would be the perfect people to go to club fittings. I think for someone who really just wants to play golf for fun, it's probably going to be hard to talk them into it. But I've always told people that, if you're going to play golf, you need to have the best clubs so that you can truly bring out your best talent. So many times I've seen women swinging golf clubs that are way too heavy. By the tenth hole they're exhausted from swinging them. Or their husbands are trying to be good hosts and go out and buy them a set of golf clubs that don't fit them at all. If they want to be a good player, club fitting is perfect because you're going to find a club that fits you and your style, whatever it is. I think the thing about golf — it's more visual. Once you make contact, see that ball fly out there, that's what golf is all about. The visual of seeing this great shot, getting better. I think if anybody wants to get better, club fitting is the way to do that.
Finkel: Is there anything else you'd like to share with our readers?
Lopez: I love golf. It's a game of a lifetime. I truly believe that. My three daughters never played golf, they mainly played other sports. They were very athletic. I don't know if it's because of the pressure of trying to be as good as their mom. But Molly, our granddaughter, she's now six. She's taking up the game. She's not playing yet; she's taking lessons and enjoying it. I hope to play golf with her someday and see her accomplish something in college. People who want to take up a sport, you know golf is a great sport. I know there are a lot of issues with time and how long it takes. I always tell people, play nine holes if you don't have time for 18. It's okay to play nine. But you get addicted to it. Golf is an addiction. You either love it or you don't like it. There are not that many people that kind of like it. But when they start playing golf and hitting that shot or even struggling, they want to get better. It's just such a great game to pick up with your family, with your husband, with your wife. You can travel, see beautiful places, play golf. Just something I want to do forever.
Finkel: Finally, if you could give our readers one tip, what would that be?
Lopez: The play happy philosophy is an important tip. I have a lot of tips. I think that people want to play better, and one tip I think about, mostly when I play with amateurs, is what they don't do. They don't keep their eye on the back of the ball. What I mean by that is, when they start to swing, they have to keep their eye on the back of the ball so that I don't have to tell them to keep their heads still. Some people don't know that they should be looking at the back of the ball. They look on the side of the ball, on top of the ball. If you want to make good, solid contact, why wouldn't you look at the back of the ball? What happens is, once you look in the back of the ball, you take the club back and when you swing, make sure you keep your eyes on the back of the ball until you make contact. Then you swing for the target. If you can't see the back of the ball, you aren't going to make contact with the back of the ball. Amateurs don't keep their heads still, but if they keep their eyes on the back of the ball, their head will stay there until they make contact.
Finkel: Perfect, Nancy. Thank you.
---
With more than 65,000+ custom hittable clubhead and shaft options, Club Champion will find the perfect fit for you. Experience the Club Champion difference! Call us at 888-340-7820 or click here to book a fitting.