Aftermarket Shafts vs. Stock Shafts
Aftermarket Shafts vs. Stock Shafts
Aftermarket Shafts vs. Stock Shafts
What does "Aftermarket" mean? Tapping into the word that you hear so much about and what it means for your golf equipment.
There's a lot of hoopla out there about "aftermarket" shafts and their superiority over the stock/standard shafts that come in clubs bought off-the-shelf. So what's marketing and what actually makes a difference?
"Aftermarket" by definition describes a shaft that's made with higher quality materials and is generally not mass produced the way a stock item might be. For example, many aftermarket shafts are hand-rolled in small batches, versus most stock offerings that are created in bulk by an assembly line system. This variance in the creation process allows for more quality control with aftermarket shafts, since the process is more controlled from the outset.
But what other differences are there between the two, and is an aftermarket shaft really worth it? Let's explore.
The Makeup
To begin with, we have straight-up looks. There's generally not a lot of visual cues to tell you that a club is stock or aftermarket. The paint jobs tend to be the same, though there are many companies that sell only aftermarket options or will allocate certain shaft families as an aftermarket purchase — this means there is no "stock" version of that shaft model.
Then there are the raw materials used to actually create the product. An aftermarket shaft will utilize better materials, like high-end carbon fibers, and a more sophisticated blending process to create strength and durability where it's needed most. Generally, these blended materials make the shaft more resistant to unwanted and unnecessary twisting during the swing, especially on impact with the ball.
In short: it makes your swing smoother and more consistent.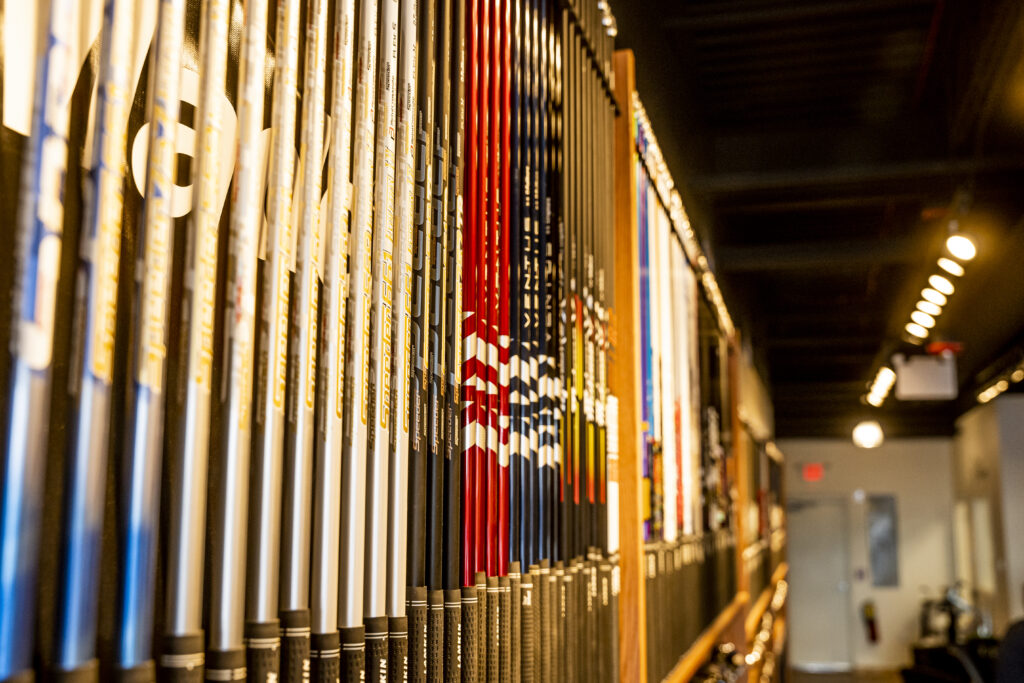 Stock shafts tend to be made with lower-quality materials because of sheer volume — when you're producing hundreds of thousands of clubs, you aren't trying to spend a ton of the shaft when the clubhead is the main focus. In some cases, stock shafts can cost literally pennies on the dollar for larger OEMs with massive outputs.
Because of the material and production differences, there's usually a price tag difference as well. While they may look identical on the outside, the aftermarket version of a shaft is housing better performance and for most golfers, that's worth a slight increase in cost.
"People are under the impression that a form of graphite is just mixed into these shafts and they don't really get why aftermarket shafts are more expensive," said Club Champion founder Nick Sherburne. "There's much more to it than that, and the great thing about a fitting is that you can see the results for yourself. I nearly never see a stock shaft outperform an aftermarket option and when I do, there's usually another factor like a budget constraint playing a role."
The Results
Speaking of results, PluggedIn Golf conducted a study with Club Champion to show the difference in distance an aftermarket shaft can provide. The study found that aftermarket shafts can be swung faster, have faster ball speeds, and provide more carry distance and overall total distance.
It's worth noting that there's nothing wrong with stock shafts, necessarily — many OEMs are partnering with shaft companies to offer more than just run-of-the-mill steel or low-end graphite offerings. However, like anything else with a custom club fitting, the point isn't to find what works; it's to find what's best. Any shaft can help bring the clubhead around and into the ball, but you may be sacrificing distance, accuracy, repeatability and more, or even risking injury, by sticking with something that doesn't suit you.
Stock shafts are created to serve the largest number of people, and therefore take your unique qualities out of play. Aftermarket shafts can more effectively be fine-tuned to your needs. Any golfer who's willing to get fitted will see the benefits of aftermarket options in their data, and in our experience, the extra 10-20 yards or tighter dispersion or better feel (etc., etc., and so on) is worth a slightly more expensive price tag since it translates to real results on the course.
If you have any further questions regarding aftermarket shafts, send a note to This email address is being protected from spambots. You need JavaScript enabled to view it. to learn more.
Ready to get fit for your perfect shaft? Click here to book a fitting.