CLUB CHAMPION REFRESHES LOOK AND FEEL, INCLUDING LOGO AND WEBSITE
CLUB CHAMPION REFRESHES LOOK AND FEEL, INCLUDING LOGO AND WEBSITE
CLUB CHAMPION REFRESHES LOOK AND FEEL, INCLUDING LOGO AND WEBSITE
Globe's Leading Club Fitter Revamps Brand Presentation
This article was originally published on thegolfwire.com on 8/9/22.
The globe's top custom golf club fitter is getting a fresh coat of paint. Beginning in August, the company officially unveiled its brand refresh, complete with an updated logo, a brand new website, and a revamped interior store concept.
These redesigns embody the company's growth over the last 12 years and the modern updates reflect the club fitter's relentless effort to maintain their leadership status in the industry.
"This brand refresh marks a new beginning for us and our services," said Club Champion CEO, Adam Levy. "As the company becomes
more recognizable nationwide, it's imperative that the customer experience remains top-tier and incredibly exciting.
That experience starts online in many cases, so we started our refresh at the root and carried it through to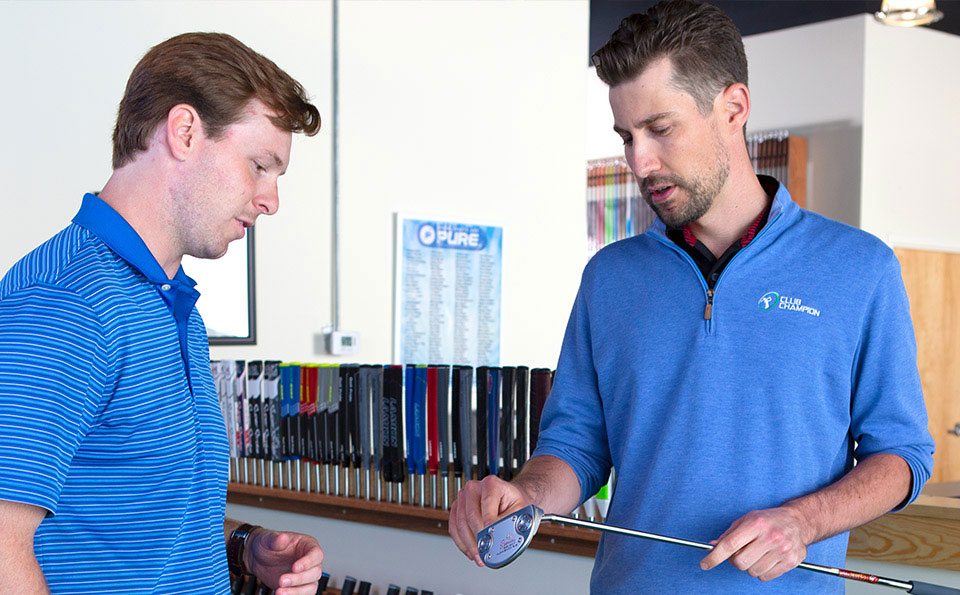 A Club Champion fitter working with a customer during a putter fitting the in-store aesthetic."
The new web experience is more intuitive and focuses heavily on both the
booking experience and delivering fresh content to each user. Brimming with new visuals and accessibility features, clubchampion.com (formerly clubchampiongolf.com) is now more appealing and easier to navigate.
The branding itself has received a facelift as well, with a new Club Champion logo. This redesign features a more welcoming and modern font but the same bold colors from the original 2010 design. The official tagline has also been changed from "Better Fit…Lower Scores" to simply "Better Fit. Lower Scores." The registered "swingman" mark has also been retouched with slight improvements. Additionally, several new colors have been added to the brand's color palette to elevate the visual experience on the company website and in stores.
As reported in July, Club Champion is now also operating a New York City flagship studio with an updated interior design. While the existing 100 domestic locations will remain as-is for the near future, upcoming studio openings will feature many of the new aesthetics and select locations will be updated over time.
"Our customers deserve the best custom fitting experience and the best golf equipment in their bags," Levy continued. "What we've been doing for over a decade has certainly worked for us and for our clients' collective journey to lower scores, but it's time to step into 2022. Our goal is always to improve and this brand refresh is one of the many ways we plan to do so in coming months."
For more information or to book a fitting, head to www.clubchampion.com or call (888) 340-7820.