Off The Cuff With Sir Nick Faldo
Off The Cuff With Sir Nick Faldo
Off The Cuff With Sir Nick Faldo
Club Champion sits down with Sir Nick Faldo to talk life on the road and more!
This interview was conducted in June 2019 by then-Club Champion employee Leonard Finkel during a golf media event.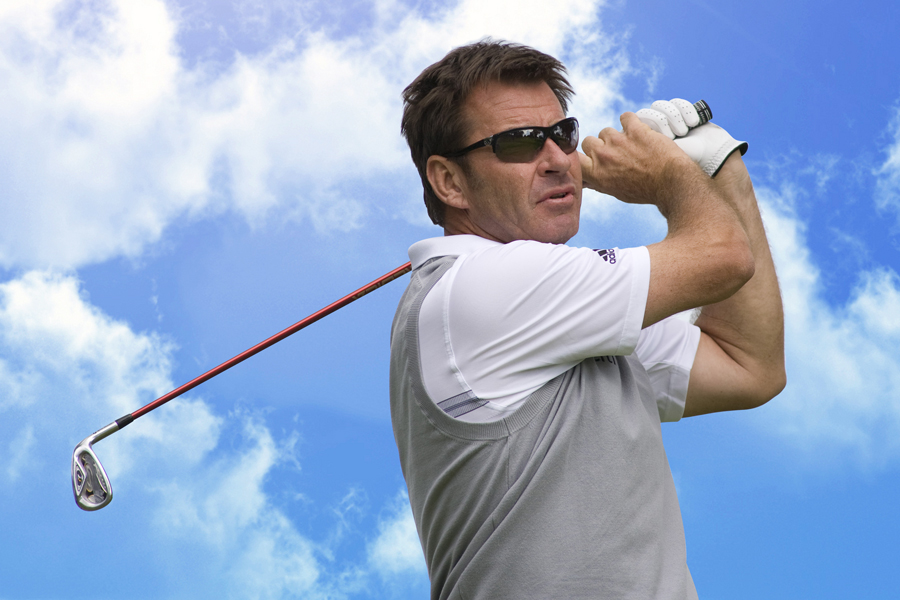 Leonard Finkel: Nick, you've become one of the more successful former athletes to transition into broadcasting. What do you like about your role as lead analyst on CBS and Golf Channel?
Sir Nick Faldo: I guess number one, I'm still involved with golf. It's been a great golfing career and to still be part of golf is great; to go to tournaments. And it's a great window for me for Faldo, for my brand. For people to still see you in their living rooms around the world; it keeps my design business going and all sorts of things like that. The series is very popular, but it's a very cool gig to sit and talk golf and I enjoy it now. I can't believe I'm starting my fifteenth season already. That's really gone in a flash.
Finkel: What are some of the more interesting golf projects you're working on now? I believe I saw you were in Pakistan of all places.
Faldo: I've got current projects out in the far east, Vietnam. I've got a couple more projects happening there, pursuing all sorts. But yes, I have a course in Pakistan in Multan for the army. The army creates residential homes for their officers and present forces. So we're building a village with fifty thousand homes on it with a golf course right in the middle of the mangoes. Apparently, Multan produces the best mangos in the world. It's quite an exciting project because we've done this in Thailand and in Cambodia, where we get completely flat land. You might get hundreds of acres, but you got four feet of movement in the whole area. We got exactly that. So we're going to create. It's fun. You come up with a vision from the area; they have these mud wall villages. We're going to recreate those around the golf course and rough areas. I visited this past November and it was quite a project. They're very keen on it. They want to bring golf to Pakistan. We're bold and we go off and venture.
Finkel: You've lived in Orlando for nearly 20 years and you've lived in some of Orlando's leading private club communities. What do you like about Orlando as your home away from home?
Faldo: Well, it all started way back, when I first came to America in 1981, when I came to get my Tour card. It was an easy flight to come from London to Orlando, and we used to come over in March because we would play a couple Florida events. We'd play the Players Championship way back then and maybe we'd come back in winter to work on my swing change. You know once you've experienced a Florida winter - compared to British winters which are so unproductive - that was the original draw here. The summers are hard work for a British lad when it's 100 degrees, but once you get used to that, then it's a real treat to be here.
Finkel: Bella Colina is one of the few places in America where you've had the opportunity put your signature Faldo design on a golf course. You're also building a house on the course. Tell us about both?
Faldo: Obviously, it's a different look. I mean, a lot of Orlando is very flat but there are actually a few rolling hills here. We've got nice lakes, a beautiful lake out back of the house, which is for the big giant bass. I like to fish. Maybe I'll get a little boat and do a little bit of sailing. It's a pretty spot. The golf course is fun to bum over and play and practice. I still love playing and practicing. It's going to be a pretty house, it's got good mod cons as we say back in Britain, modern conveniences. It is a unique piece of land. When we first got a phone call, they said you know it's got 100 foot elevations. I said, wow, we can't be in Florida because we've got the rolling hills, a little bit of the Carolinas, which makes it pretty unique. It's got big open space, so everything was designed on a big scale, probably a bit too big. I've got to rein it back in. The bunkers were enormous and pretty brutal, so we've got to just rein it back in a bit some eleven years later. But it's a really enjoyable change of golf. That's the whole point. When you play on a dry golf course and you have decent length, you've got to stretch them out. You can play from shorter yardage right up to over seven and a half thousand yards. But the bunkers and the greens are pretty tough, so I'm on a mission to soften things and make life a little easier.
Finkel: You went through a huge swing change, totally revamping your game. You worked with David Leadbetter. There's all the new technology today and custom club fitting that's now available. Do you think that the new technology and the new fitting processes might have made your job easier?
Faldo: It really would have been easier. You know TrackMan is amazing. With a TrackMan, you hit one golf ball and you get factual information; however you want to translate it. I translate what TrackMan was saying with numbers to a feel. Then obviously you get someone like Bryson DeChambeau, and you've got numbers just like the physics of golf. It would've been so much easier because if you're trying to hit a draw or a fade, well you go and do it and then you'll get factual feedback. If you made a swing that's going left, you can pinpoint it so much quicker. As a kid, I used to hit thousands of balls in the morning, and then go and play the first hole and I wasn't sure if I got it. That is very unproductive. I did it the old-fashioned way, just beating golf balls and got no feedback. I would have preferred to have technology and knowledge way back then or be in this era now where you've got that, plus club fitting as well. When you look at what we used at one time in my career - you had to just pick up a club and see if it would work. It went in the bag and you didn't know what you had, and you didn't know how to change it. It took a day to change a golf shaft in a driver, because the glue took overnight to cure. Now you can change everything in five seconds. That is probably the greatest invention I think, that you experiment and then you got a TrackMan or other device that fine-tunes your launch. Whether you're looking for your launch and spin or angle of attack, or to coach yourself. You can see, I'm coming down not too steep on that one which if somebody can't feel that, you can see it in numbers. So bottom line, I just love factual feedback. That's the greatest thing out there right now.
Finkel: The Faldo series dedicated to junior golf is another passion of yours. It's hosted past champions like Rory McIlroy. What's that future look like?
Faldo: We're starting our twenty-third season. We started in Britain just after the Masters Championship and we played events there and then expanded across Europe. Then we took that model to Asia and now we've brought some events to America. My son is currently my series director and he is on a mission to try to really create some things in South America as well. I then created an event called MCI, the Major Champions Invitational. We invited four youngsters - two boys, two girls - to come from all four corners of the world. They came and played, and we had a great week. Henrik (Stenson) swung by and Annika (Sörenstam) was involved, and Jack (Nicklaus) and Jerry Pate. Some great names. Tom Watson supported the team, and Jordan Spieth and Rory, Dustin Johnson and Jim Furyk. We're going again this March, so we're very excited. So it's happening and its expanding.
Finkel: What you do with your spare time?
Faldo: I have a great life, especially in America, where I run off on television. I come back and might get a couple of days at home. I got two giant puppies and I'm going for three puppies, adopting a poor old fella, a Weimaraner. They're big fellas and love the beach and want to go and run, so that's pretty cool in my life. Once the season is done we're already planning holidays and vacation time. One major trip, we're probably going to Slovakia, because they have my event every ten years. My Founders series, but I've never been there. They've got castles and observatories and all sorts of things to discover. I love Montana. Lindsay and I, we love to go to Montana. We go north to Whitefish. I have a course in the wilderness up in Eureka, which is eight miles from the Canadian border. We went there last year with the dogs. They loved it and we loved it. It's good to chill, good to golf, good to fish. I love the scenery and the stillness of it at times. It's really very good for you when you have a hustle and bustle life. We're very happy to get away just the two of us or maybe take some friends or family and go and chill out in Montana. That's already planned for this year.
Finkel: Finally, who would be in your dream foursome?
Faldo: Hogan, Snead, Trevino and me, and refereed by Winston Churchill. He could be our motivator; dig it out of the bunkers, lads. And then probably St. Andrews would make sense. St. Andrews I think would make for a pretty good 36 holes.
Finkel: Pretty cool indeed. Thanks for your time, Sir Nick.
---
With more than 65,000+ custom hittable clubhead and shaft options, Club Champion will find the perfect fit for you. Experience the Club Champion difference! Call us at 888-340-7820 or click here to book online.