Breakdown: SAM PuttLab Technology
Breakdown: SAM PuttLab Technology
Breakdown: SAM PuttLab Technology
What in Sam Hill is the SAM Puttlab? Here's an in-depth look at the advanced technology that will assist you in sinking more putts.
Today, we're breaking down the Science & Motion (SAM) PuttLab technology found in every Club Champion studio and how it helps fitters to find your perfect putter.
For most golfers, putts make up around 40% of the strokes on a scorecard. In nearly every round, you'll use your putter on every single hole — it's the only club in the bag that gets that much mileage. So why not employ the gold standard when it comes to putter fitting technology?
Let's break down how the technology actually works. SAM uses ultrasound scanners and lasers to track the core function of dozens of different putting parameters. There are a lot of factors that go into a putting stroke and SAM takes all of them into account. The machine tracks where you make impact, how your striking speed differs or compares to your tap-ins, your stroke path, and many, many more elements.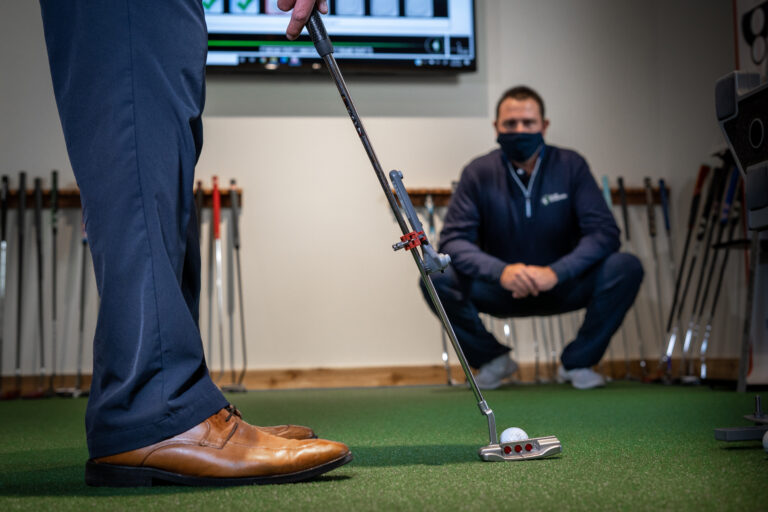 The SAM Triplett tracks the motion of the club during your stroke.
You'll see a funny-looking machine in a Club Champion putter studio, called the SAM BaseUnit, that uses attachable lasers to show precisely where the putter is aimed. There are also overhead projectors that illustrate the correct break of the green and motion capture systems to track the "before," "during," and "after" of the stroke.
All the tracking and data is recorded in real-time, so you'll be able to see what you're doing while you're doing it. But the comprehensive analysis reports that SAM provides are where the real magic happens.
Based on the information generated from first testing your gamer and then testing a few other putter options, your fitter will be able to recommend the best combination of elements to suit your unique needs. Putter length, toe hang, head style, loft, even grip size — everything can be dialed in using the data generated by SAM and the knowledge of a Club Champion fitter on both the fitting tech and the putter options available on the market today.
After a putter fitting, 40% of your game can be 100% fitted to you. Book a Club Champion putter fitting on the unmatched SAM PuttLab at Club Champion today!